Fred Ginsburg of EQE Media & Consulting on Rock-n-Roller Multi-carts
Fred Ginsburg of EQE Media & Consulting on Rock-n-Roller Multi-carts
At the last winter NAMM Show (2012, Anaheim CA), I had one of my soundcarts on display in the Tascam booth, where I was doing presentations about the HS-P82 recorder. The owner of the Rock N Roller Multicart company stopped by, and was intrigued by the modifications that I had made to his original design in order to convert the cart for film/video applications. He invited me to help him design a new accessory shelf unit that would satisfy the needs of sound mixers and videographers. In just a couple months time, he shipped me the newly designed cart, ready to exhibit at this year's NAB show! (see picture)
The original top shelf offered as an accessory kit for the Rock N Roller carts consists of a rather narrow, carpet covered plywood shelf  system. The shelf is in two sections, so that the end user can use the cart in compacted or fully telescoped length. But for production applications, we require a larger work surface for our mixing panel, recorder, wireless, and everything else! Up to now, we sound mixers (and videographers) had to fabricate our own solutions.
I attached a large 36×24 aluminum pan to the wooden narrow shelf. A folding utility shelf system served as an upper hutch. It was not pretty, but it was functional.
However, as of NAB 2012, the Rock N Roller Multicart company now offers a factory built top shelf solution! Their Multi-Media 2-tier Workstation is an accessory shelving system that readily mounts onto most of the Rock N Roller frames, such as the R12, R10, and R8 units. Personally, I recommend the R12 frame, which comes with four all terrain never-flat wheels. Casters just don't cut it in the world of film and video production!
For those of you who are not familiar with the Rock N Roller carts, they are very strong, yet weigh a whole lot less than conventional handtruck carts. The frame telescopes from 34 to 52 inches. The two side handles fold down flat, so that the entire cart is very easy to transport or ship. Use the cart fully extended to haul equipment cases to the location; then shrink it down and mount the shelf system for use in even the smallest sets.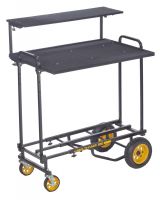 The Multi-Media system consists of a main shelf that measures 36×24. It is made of plywood, and fully carpeted. A 1/2-inch lip keeps your stuff from rolling off. Weight is around 16 lbs. It easily bolts onto the two upright "handles" of the cart. A narrower hutch shelf measuring 36×10 mounts above the main shelf and can host wireless receivers, monitors, digital recorders, etc. The hutch is supported by a pair of C-shaped square tubes that easily slide into receptacles under both shelves. In storage mode, the tube supports can be attached sideways so as to fold flat against the underside of the hutch. No tools required. All together, the main shelf and hutch only weigh in at around 22 lbs.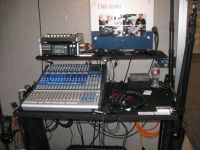 The list price of the Multi-Media Workstation kit is under one hundred dollars. And the list price of the R12 frame is under three hundred dollars. I am confident that a good shopper ought to be able to find a dealer who would discount the entire package at least 10% or so. That means that for around $350-ish, you can own one of these highly versatile and very portable production carts!
Of course, every one is still going to want to customize it a little. On my cart, I drilled holes through the top of the handle to accommodate large (rafter hanging) hooks that I found in the hardware store. I also added a bunch of eye hooks under the main shelf so that I could snap on some RipTie cable hangers. A trip to the car parts store located a nice canvas (seatback) apron full of pouches, originally intended to hang down from a seat headrest. It now hangs off of one of the cart handles.
On the other handle, I had a vendor make me a canvas apron with large tubular pockets for holding boompoles & antennas. Rock N Roller is currently negotiating with that same vendor to make similar custom pouches that anyone could order along with their cart.

By the way, here is a picture of us rolling a fully loaded soundcart through the 25 inch wide doorway (hatchway) of the storage room behind the Audio Technica booth at the close of each show day during NAB. Doors don't get any smaller than that, and we were even able to leave the XLR cables plugged in to the rear of the mixing board! The coffee holder rotated to the rear, and cleared the door.
About the Author:
Fred Ginsburg CAS, Ph.D., MBKS is a highly experienced professional sound mixer, professor, workshop instructor, and corporate consultant. Published and written in many trade magazines, he is also president of the EQE Media & Consulting Group.